About the Peter Condakes Company
A Family Tradition Since 1900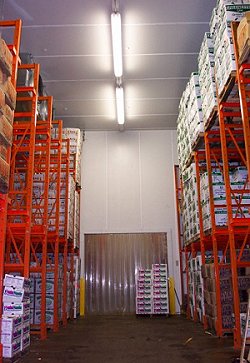 Peter Condakes Company began with a newly arrived immigrant wanting a better life and prepared to work hard for it. Not long after arriving from Greece, Peter J. Condakes, our founder, began selling fresh fruits and vegetables from a pushcart on the streets of Boston. The year was 1900. Long hours and a passion for his work enabled him to progress from pushcart peddler to wholesale operator with the acquisition of his own location on Boston's old Commercial Street. From these humble beginnings, The Peter Condakes Company was to blossom into one of New England's largest fruit and vegetable truckload receivers.
A dedicated family man, Peter Condakes fathered seven children, five of whom became direct participants in the business, each responsible for overseeing and expanding a different area. By the 1950's, the company was located in South Boston and was a major force in the area's produce industry. Tomatoes, lettuce, East Coast vegetables, citrus fruit, apples, and many other varieties were distributed and/or repacked by the company. Much of this growth can be attributed to Peter's children John, George, Leo, James, and Pauline.
By 1974, the year of Peter's death, the company had packing and distribution plants in both the New England Produce Center and the Boston Market Terminal. Thousands of tons of fruits and vegetables were purchased by the company, eventually making the trip to dinner tables from New England to the Canadian Maritimes.
As the company's second century has arrived, the grandchildren of Peter Condakes have assumed the company's leadership and are instituting major changes to insure continued outstanding customer service. Installation of a multi-million dollar computerized procurement and fulfillment system, along with new equipment and techniques designed to improve the safety and freshness of your produce have already, or are in the process of being implemented.
Yet even after over a century in business, we know that our future growth is predicated upon the simple lesson passed down to us by our founder, Peter J. Condakes ...... "Provide our customers with the best possible product at the fairest possible price."
We strive to do this each and every day.